Tignes Day 6: 31/1/2013

Gez was keen for an early start and we were at the lifts 10 minutes before they opened.James was obviously still asleep as he missed a turn on the first run and ended up back at the first lift.still it was a nice run and it warmed our legs ready for the next trip.it turned out we had to wait a few minutes at the top to let the nice people with dynamite tidy up the controlled avalanche.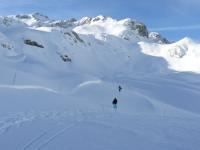 we fancied another go at the 10km we skied on day 2.although there was about 5 inches of fresh snow it wasn't as powdery as day 2 so we had to learn a different technique to get through it. it's fun figuring out when to 'go for it' in deep snow to avoid any walking on flat bits.
we covered a lot of ground (38 miles, top speed 50mph :woooo!) and a lot of different conditions. high up is great but low down is very icy. no doubt well be heading high tomorrow to make the most of or last day skiing...