Tignes Day 5: 30/1/2013

we were forecast for a cloudy start followed by snow in the afternoon but we headed out regardless to see if we could figure out which way was downhill.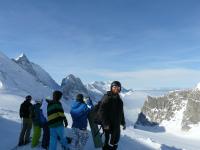 within half an hour of sunrise the clouds burnt away and it stayed sunny all day so we set off on another marathon.
there are times when James would like his 2m long alpine skis back.he's not convinced the modern shorter ski give anything as like as much grip when there's ice around. conditions were mixed but often the best conditions were to be found off piste.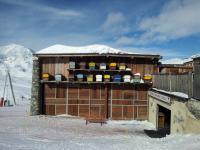 after another trek up to the top only to discover the cable was still closed we explored some new runs and tried our feet at off piste before returning back to the hotel in time for happy hour.it's forecast to snow tonight and some of the runs could do with a top up to stop James yapping on about how good alpine skis are compared to these new fangled contraptions...