Chamonix Day 2 : 07/02/2010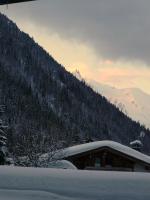 We stayed up late last night chatting and drinking the hotels delightful wine but managed to prize ourselves out of bed in time for a huge breakfast.
We decided to aim for the green at Le Tour to see if anyone could remember how to ski.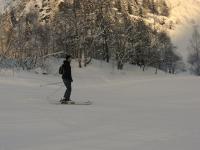 It wasn't long before our legs remembered what to do and we moved to some blue runs.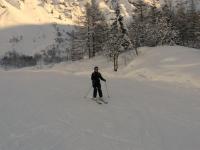 While Cooney and Tara did a few more laps of the blues and greens Gez and James went to explore some new territory. The wind chill increased higher up the mountain but there were some nice runs to be had. We are thinking of heading to Flegere tomorrow as Cooney has never been up that mountain before.
We will try to turn in a little ealier tonight but the barman may have to hide the wine! The WiFi connection at the hotel is playing up a bit but I'll try to keep you posted.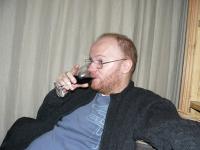 ....later that evening after a cracking meal we couldn't resist another bottle of red back at the hotel. It's hard to say who won the yawning competition but it's safe to say we all know our bodies have done a bit of exercise so it wasn't too hard o turn in early.

Chamonix Day 2 : 07/02/2010
The colours of Le Tour