Chamonix Day 4 : 09/02/2010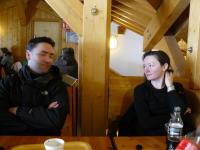 Conditions change quickly in the mountains. James and Gez were advised yesterday not to do the Valee Blanch which turned out to be a good decision. Compared to all the sunshine we've had, today's visibility was a bit poor so we got the hang of not seeing on the easy slopes of Le Tour before venturing a little higher. Cooney and Tara skied the accident spot of 2008 to get it out of their systems and we stopped off for a hot chocolate as the snow came down some more. Gez and James explored the Swiss side again but there wasn't much fun to be had in the flat light so we finished early and opted for an extra long jacuzzi instead, it's a hard life but someone has to do it.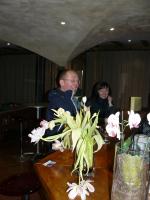 We ventured into Chamonix in the evening for a delicious curry and discovered the delights of having snow tyres on a very speedy taxi back. Somehow we always end up sat round a log fire in a nice little hotel with a bottle of red.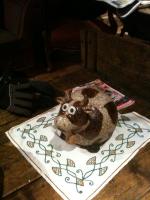 We don't know if it's something to do with all the cheese we've been having but James is beginning to look a bit odd.
Chamonix Day 4 : 09/02/2010