Chamonix Day 8 : 13/02/2010
An early start. Cooney and Tara waved Gez and James off at 8am.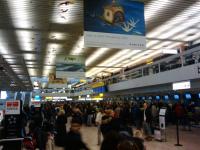 There must have been a mass exodus from Switzerland and France before the Brits arrive because the airport was jam packed with people trying to leave.
Thankfully the weather in Leeds made it an easy landing this year.
Cooney and Tara made the same trip a couple of hours later back to manc land. A fantastic and injury free time was had by everyone and we wish Graham and Sue bon voyage to Borovets. (If anyone can offer Graham a job that means he can go skiing in term time get in touch)
Chamonix Day 8 : 13/02/2010
The Journey Home