Chamonix Day 3 : 08/02/2010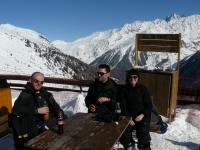 Today started sunny and finished sunny with prolonged spells of sunshine inbetween. Lots of fun was had a Flegere. Cooney and Tara are mastering their turns and Gez and James managed a couple of black runs as well as exploring a bit of Brevent in the afternoon. Sun cream had to be frequently applied, T shirts and shorts would have been the ideal ski wear.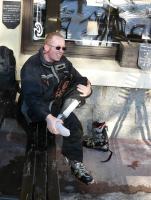 Gez likes to clamp his feet firmly into his boots but the vice like grip must have been a problem for his circulation and he couldn't wait to get out of them after the days skiing.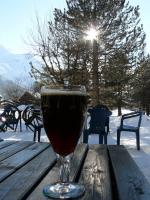 We managed to find the right solution to get the circulation going again.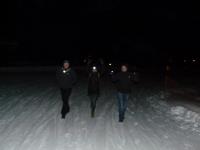 Cooney and Tara missed out on a trip to Cremerie de Glacier on their last visit so James' birthday tea involed a trek up a pitch black piste. Fortunately we remebered to bring some torches.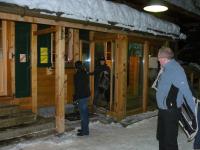 After an absolutely stonking meal we headed back to the hotel for the compulsory bottle of red before turning in. It's only Monday so we have a feeling another trip up the piste might be in order later in the week. Thanks for all the birthday cards, even the ones that were meant for someone else!