Les Arcs Day 3 : 17/01/2011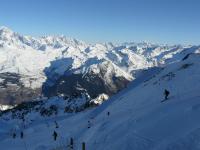 After we ingested a few thousand calories at breakfast Gez and James dropped Maria off at school and went up to 3226m to ski the Aiguille Rouge.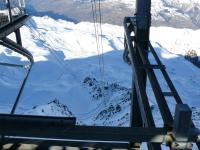 After meeting up with Maria for lunch we skied for a while and then took the trip to the top of Aiguille Rouge to take in the spectacular views.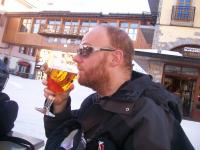 While Maria and James took the gondola back down Gez skied to the bottom and got the biers in.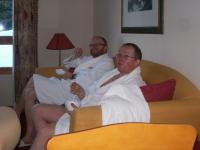 After a day wearing spandex ski wear Gez and James slipped into something more comfortable before hitting the jacuzzi.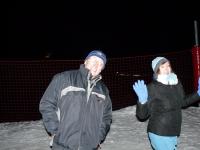 We went up to Les Arc 2000 for tea and found somewhere almost as nice as the Cremerie in Chamonix. Maria and Gez auditioned for Dancing on Ice on the way back down to the apartment. Tomorrow is forecast to be slightly cloudy so we may have to wear something more than the T shirts under our coats that we've worn the last two days.
Les Arcs Day 3 : 17/01/2011
The Highest Point.