Les Arcs Day 4 : 18/01/2011
nous sommes tres fatigues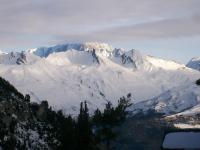 At the bottom of the street there's a pretty good view of Mt Blanc. Today was forecast to be cloudy so the peak was not be seen.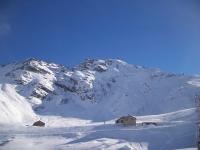 Maria took this picture from a chair lift - it didn't stay cloudy for long, today was another scorcher. It is forecast to get colder but at the moment Maria thinks Gez and James have been pulling her leg about how cold it can get.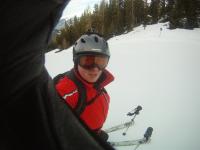 We put Gez's camera into picture mode today to see if the computer could handle it.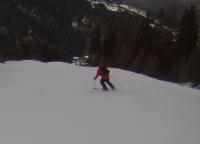 This is Gez(Desiree) skiing down the Ecureulls black run but the camera really doesn't show how steep the hill is.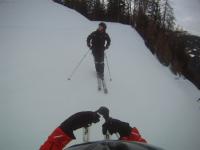 Here's James(Bubbles) before he starts his run down the same slope which gives a better clue about the angle.
Les Arcs Day 4 : 18/01/2011
nous sommes tres fatigues