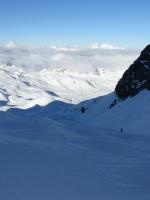 It's traditional for James and Gez to try a mogul (bumpy) field when they go skiing but although this one looked ok from the lift it turned out to be rock solid.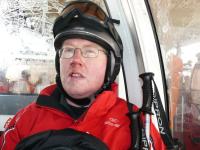 Gez had a minor incident with a Pole on the mogul run but was keen to go back for more .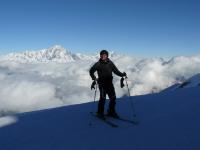 It's getting colder, today was a 3 layer day and you could definitely feel a nip in the air above the clouds.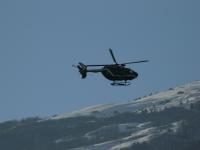 James thought about taking Maria on a helicopter tour for her birthday...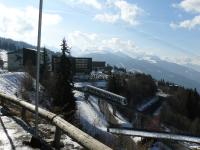 ... but opted for the free funicular instead.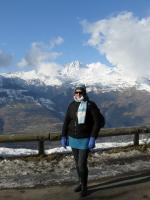 Maria and James left Gez to ski in the afternoon and took a trip down to Bourg St Maurice at the bottom of the mountain (where it was much warmer)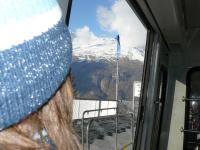 The scenery was fantastic on the way down but it's obvious that the snow line is very high for this time of year - although the skiing is reasonably good some parts could do with a good dump of snow.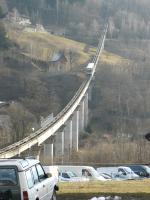 The funicular took about 7 minutes to make the trip.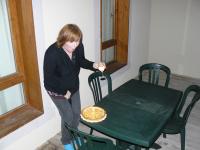 Maria says thanks for all the cards. The surprise 'birthday cake' was an apple tart from the local patisserie.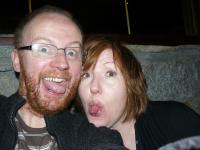 Maria took Bubbles and Desiree out for the evening and a great time was had by all.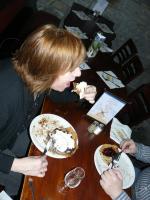 Maria made sure she had enough calories on board for tomorrows skiing.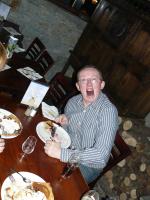 Gez was talking crepe most of the evening.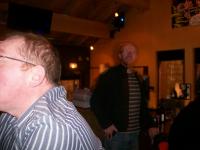 We stayed out way beyond our bedtime so it'll be interesting to see what time we surface in the morning.
Les Arcs Day 5 : 19/01/2011